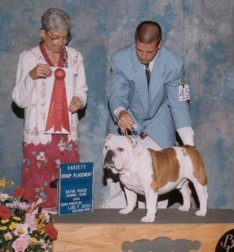 Christopher Somers with Ch. Mapo's Geronamo winning a Group 4 Placement under Judge Arlene Czech. Chris was our first to enter the Junior handling ring with several of our bullies. Charles Trotter stated, "That boy knows how to show a bulldog, you should pay him to show yours!" The standard and competion having now been set for the younger brothers and sisters to follow.............Chris will be showing a few more times this year but leaves us in August to train with The AirForce in San Antonio.

Our first daughter Jennifer entered the ring around the same time as Chris and has been a very fierce competetor. Her first major win was in 1999 BCT Speciality winning Best Junior over Chris. Judge John Little had a very tough time deciding between the two as they moved in unison. Jennifer continued on to win the National 2002 Best Junior Handler in Minnesota with Th.& Am. Ch. Rocksteady's Road Dogg.
Great job Jen!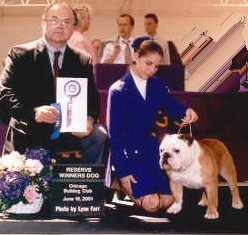 Danielle our middle daughter also blessed us in the show ring with many Best Junior Handler wins and was on her way to compete in Westminister Juniors. Danielle has pointed many of our bullies and has handled over 20 breeds of dogs for others. Her professional "polish" is an asset in the ring. Danielle has competed in many Group rings with many professional handlers. Way to go Danielle!
Kathy our youngest daughter also competed in junior handling with many wins. Kathy has also handled 4 other breeds and assisted many other breeders with their grooming and class training. Kathy is an experienced Obedience ring steward and is actively learning fly-ball. Awsome work Kathy!